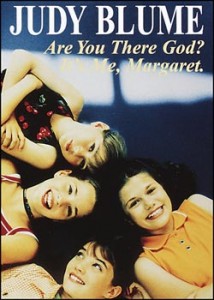 Yesterday I spoke with my aunt who just retired from teaching and is substituting at a Middle School. She told me stories of the kids being mischievous, trying to take advantage of her status as substitute, while other kids approached her with an innocence that you normally expect from the grade school kids. I told her my boyfriend works with Middle School kids and how it seems like they're always trying to test his limits for patience. My aunt replied, "They're just trying to figure out who they are."
And isn't that it? At about the age of 12, kids are starting to try to carve out their own identity apart from their parents or their family. They're becoming individuals and experiencing certain things in life for the first time.
Recently I decided to read "Are You There God? It's Me, Margaret.
" by Judy Blume. Originally released in the 70's, this book is the coming of age story of Margaret, a young girl who is on the verge of blossoming into a woman. At the age of 12 there are certain rights of passage that all girls go through. From crushing on boys to beginning to wear deodorant to that all-important first menstruation, if a girl is delayed in experiencing any of these she may feel left behind by her other friends.
The story begins with 11 year old Margaret moving to a suburb in New Jersey from living her whole life in New York City. Instantly she is welcomed into a group of girls from her school and they spend the school year swapping secrets and comparing each other's experiences to one another. One of the first things they do as a group is begin to wear bras. Then they keep a list of boys they like to share with one another. Finally they make a pack that whoever gets their period first, they'll share with the others what it was like. Throughout the book Margaret talks to God about how she wishes to grow up faster and catch up with her quickly developing friends.
Margaret's father is Jewish and her mother is Christian, but her family doesn't practice either religion and this is also an issue for Margaret who doesn't know if she should join the YMCA or the Jewish Community Center in the summer. Margaret tries church and temple to see what religion is better suited to her but in the end, she can't make a decision one way or another.
I was probably 10 years old when I first read this book, a good age because I was right in the mix with Margaret on learning who I was, making sure I was growing up just as fast as my friends and understanding my faith and what it meant to me personally. Now as I read it, it brings back memories of sharing secrets with my group of girlfriends, my first crushes on boys and the days when we started segregating ourselves in the jocks, the popular kids and other groups. This is great story for girls ages 10 – 13. Even though the story takes place in the 70's, the themes are universal. And don't be scared away that it's on the banned book list. Some of the most honest literature on life issues has made its way onto this list for one reason or another.
Have you recently read a book that you once read as a child? What do you think of it now?