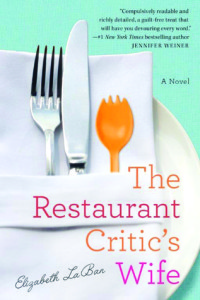 My boyfriend and I consider ourselves to be somewhat foodies. We love checking out new restaurants, especially those that bring a different spin on foreign cuisine. My favorite restaurants are breakfast diners.
A few weeks ago we went to a new breakfast diner that just opened up. It was a disappointment. They messed up my order, gave me warm bread instead of toast and my significant other's omelet was less than seasoned. Oh well… we'll spread the word so our friends won't have to waste their own money trying to figure out if this place is any good or not. It's too bad because it's so close to home.
But my experience reminded me of a book that I just finished called The Restaurant Critic's Wife. I seriously loved this book! It's a recipe for success as far as I'm concerned and I'm going to share Elizabeth Leban's recipe with you.
A Successful Novel Recipe
Ingredients
1 Over-stressed new mother as your protagonist
1 Quirky, clueless husband who makes a living by critiquing others' livelihoods publicly
1 Jealous toddler and 1 laid back newborn baby
4 Odd helicopter mom neighbors
1 gay waiter
1 tabloid writer
1 restaurant owner's wife
Directions
Move the over-stressed new mother into a picturesque, urban Philadelphian neighborhood where the helicopter moms have already set up base – make sure to include kids and quirky husband.
Have quirky husband, in an attempt to remain anonymous, forbid over-stressed mother from making friends ensuring that her only contacts will be related to the restaurants that he takes her to for his research.
Set up random meeting between restaurateur's wife and daughter and over-stressed and now lonely new mother and toddler in a playground setting.
In the same setting, but a few days later, enter gay waiter from critic's newest assignment.
Mix it all up with a tabloid writer who is hell-bent on exposing the quirky husband as the infamous restaurant critic by outing his wife whenever she socializes with anyone in the industry or eats at any restaurants who have received a bad rating recently.
Let chaos ensue to a point at which a marriage goes into jeopardy, a neighbor crosses the line and a friend is revealed for who they really are.
Enjoy the unpredictable humor, realism on motherhood and warm, cozy feeling of characters coming alive one at a time right in front of your eyes.
OK… maybe I'm over-simplifying… Well, maybe I'm actually over complicating. We'll have to ask Elizabeth Laban what she thinks if she ever gets to read this review. But honestly, I can see myself reading this again before the year is up – which says a lot considering how much new reading material I have on hand right now.
The fact is that whatever it was she actually used, however she put it together, the end product was a beautiful story about a new mother who is challenged in her life to keep her own control and individuality among a domineering husband and their two young children in a world that is reluctant to see her as a woman separate from her friends, neighbors and family. I highly recommend it to anyone who knows the joys and downfalls of motherhood and those who can laugh easily at what some will do to keep their anonymity.
Do you have a new favorite novel you've recently discovered? What kind of recipe did they use to hook you?