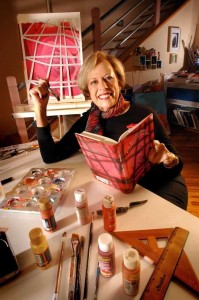 It's amazing how much we remember the books we read as children. For instance, college aged kids of today will remember being introduced to the Harry Potter series. I can remember growing up reading the Box Car Children series and Sweet Valley High. Think back to your childhood and remember what authors or books series you used to read and enjoy.
Just last week we lost a popular children's author – E.L. Konigsburg. This middle school science teacher was a 2-time winner of the Newbery Medal and 3-time nominee. Konigsburg says she took her subject matter from imaging how scenarios she encountered in her own life could have turned out. Although she's written 16 novels and illustrated 3 picture books, Konigsburg is most known for three middle grade novels she published in 1967, 1968 and 1996. One of her books was even adapted into a movie and later a TV movie.
Below are three of the novels written by E.L. Konigsburg. I hope you are reminded of your childhood, or you discover you're never too old to pick up a children's book every once in a while.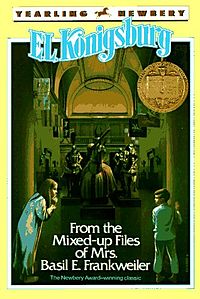 The Mixed-Up Files of Mrs. Basil E. Frankenweiler (1968 winner of the Newbery Medal)
The book begin with Mrs. Basil E. Frankenweiler writing to her lawyer in order to change her will. She narrates:
Twelve-year old Claudia Kincaid and her 9-year old brother, Jamie, run away to live in the Metropolitan Museum of Art in New York City.  When Mrs. Basil's angelic statue shows up at the museum, the children become obsessed with learning its origin. They use their last money to travel to Mrs. Basil's home in Connecticut where they search through her unorganized files to find the information they seek.
After discovering the angel's secret, Mrs. Basil offers to give them a ride home and leave the files to them in her will if they tell her of their runaway adventures in the museum. Most importantly, Mrs. Basil has found companionship and Claudia finally has a secret all her own to treasure.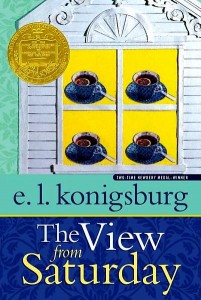 The View from Saturday (1997 winner of the Newbery Medal)
Eva Marie Olinski, a paraplegic teacher at Epiphany Middle School, selects a group of students who identify themselves as "The Souls" to represent the class in Academic Bowl competition. The Souls don't disappoint, beating out all other schools in the NY area and even some of their own schoolmates to become New York State Middle School Champions.
Each chapter of the book is told from the voice of one of the students competing on the championship team. They discuss a question in the final championship round of the competition and relate it to where they are in their own lives as they are growing up and learning to get along with one another.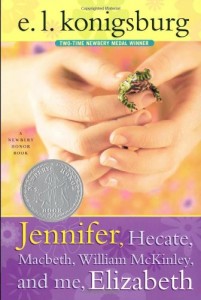 Jennifer, Hecate, MacBeth, William McKinley and me, Elizabeth (1968 Newbery Medal nominee)
Elizabeth tells the story moving to a new town where she meets Jennifer, a student in her school who claims to be a witch. Jennifer takes Elizabeth as an apprentice and give her weekly assignments to complete like eating raw eggs for breakfast. Elizabeth is not having fun with the weekly tasks she's given, but Jennifer is her only friend in town.
When the girls decide to brew a flying potion, Jennifer gives Elizabeth a toad to look after until it's time to add him to the potion. Elizabeth grows fond the toad she's caring for and breaks her apprenticeship with Jennifer in order to save his life. Later Elizabeth determines that Jennifer is not really a witch and just another girl who lives in her apartment building. Confronted, Jennifer admits to the truth and the two girls begin a normal friendship.
Did I spark your interest with any of these book? Leave a comment if you remember reading these books as a child.